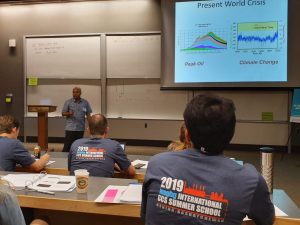 Dr. Rachmat Sule from Indonesia CoE for CCS/CCUS gave lectures on IEAGHG Summer School at Regina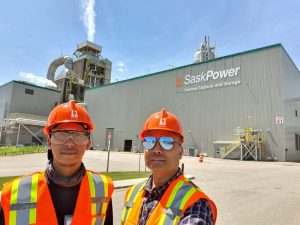 Indonesia CoE for CCS/CCUS visited Carbon Capture and Storage Facility at SaskPower Boundary Dam Power Station at Estevan, Canada
Representatives of Indonesia Center of Excellence on CCS/CCUS attended 2019 IEAGHG Summer School hosted by International CCS Knowledge Center at Regina, Saskatchewan, Canada.
Dr. Rachmat Sule from Indonesia CoE CCS/CCUS give lecture on IEAGHG Summer School at Regina
The annual event was taking place at Regina, Saskatchewan, Canada for 7-13 July 2019. The summer school involved students from 20 countries and world experts in Carbon Capture and Storage field all over the world. Besides courses and lectures, the school also offered a memorable visit to Carbon Capture and Storage facility of SaskPower Boundary Dam coal fired power at.
The event ought to be the ultimate knowledge transfer to Indonesia CCS knowledge treasure and in the same time promote that Indonesia fully support the effort to mitigate the greenhouse gas emission through the CCS technology.
Carbon Capture and Storage Facility at SaskPower Boundary Dam Power Station at Estevan, Canada
Indonesia CoE visited Carbon Capture and Storage Facility at SaskPower Boundary Dam Power Station at Estevan, Canada