One of the major challenges in the development of new gas fields in Indonesia is the high content of CO2 in the natural gas. After conducting environment impact analysis study, several gas fields could be developed by emitting the separated CO2. However, this treatment is not likely to be implemented anymore in the future due to environmental concern, and hence the deployment of CCS and CCS-EOR (enhanced oil recovery) must be accelerated to further develop gas field in Indonesia. For example, Natuna D-Alpha, which is the biggest gas field in Indonesia, has around 72% of CO2 content. The lack of development of economic CO2 separation has hindered the development of this field in the past decades, and hence extra attention and efforts must be done to find a wise solution. The effort is not only related to the technology of storing CO2 into the subsurface, but also on how to capture the CO2 from the feed gas.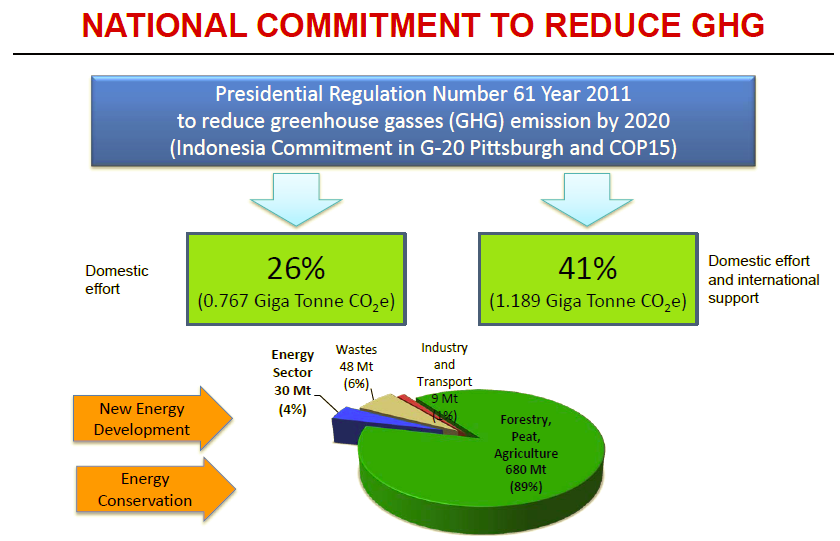 During the COP-21 in Paris in 2015, The President of Republic Indonesia expressed the commitment of Indonesia to reduce the CO2 emission by 29%, which is mainly achieved through reforestation, and the commitment could increase up to 41% if international support is available. In line with such commitment, the Government of Indonesia has introduced a so called Vision of Energy Supply and Demand in 2025, in which 32 % of Indonesia's energy consumption in 2025 (approximately 3.2 MMBOE) will be supplied from coal, 20% from oil, 23% from gas and 25% from renewable energy. As a comparison, Indonesia's current energy consumption is about 1.2 MMBOE, in which the biggest contribution come from oil (43%). In order to fulfil this vision, it is very important for Indonesia to enhance the use of new-renewable energy and gas in the future.
Carbon Capture and Storage (CCS) is gaining more attention as a possible abatement solution to growing carbon dioxide (CO2) emissions. In Indonesia, efforts to contain CO2 through CCS align with national commitments to reduce CO2 emissions. In Indonesia's National Action Plan on Climate Change, passed through Presidential Decree No. 61 in 2011, Indonesia recognized that CCS could contribute up to 40% of the energy sector's target reductions. However, despite this potential, there has been limited effort to pilot and demonstrate CCS technology in Indonesia.