Asian Clean Energy Forum in 2019 was held in Manila, Philippines. The event was organized by Asian Development Bank to set and mainly discuss on "Opportunities for Cooperation on CCUS Research and Pilot Projects" in the roundtable discussion .
It was attended by the Government of UK, US Government, World Bank, International CCS Knowledge Centre and other international stakeholders. The event objectives are to identify new opportunities in CCUS, prepare regulatory frameworks and grow a research network to create opportunities for low carbon development through CCUS Implemetation, especially in Asia region. The tagline of the event is "Asia Wakes up to CCUS".
Asia Clean Energy Forum 2019 in Manila, Philippines
Indonesia CoE for CCS/CCUS was represented by Prof. Djoko Santoso Prof. Wawan G.A Kadir and Dr. Rachmat Sule. One of the main issue discussed is the possibility of upgrading the Indonesia CoE for CCS/CCUS from nation Institution to Asia-Pacific or South and Southeast region Center of Excellence.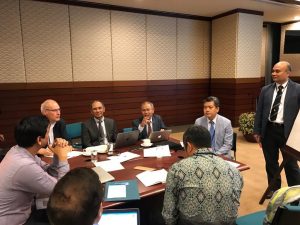 Roundtable discussion and workshop in Asia Clean Energy Forum. Indonesia Center of Excellence for CCS/CCUS represented by Prof. Djoko Santoso, Prof. Wawan Gunawan A. Kadir and Dr. Rachmat Sule